Wedding Photojournalism
Delivering the moment as it is,
freezing it in a photograph to tell your story.
Our Style
We capture all weddings in a documentary form and we called it 'Photojournalism'.
Document the real emotion of the wedding as it happens in a natural way. We tell your wedding story through photographs, and presented in our bespoke album. This album of memories will become a part of your family history. Not only is it the perfect way to display & tell your story, it truly will become a treasured keepsake to you and future generations.
Our Rates
We offer tailor made menus if you have a wedding that is a little different and special. Requirement may differ for different events,
so do contact us for a bespoke quote.
* 2022 – 2023 slots are not available at the moment, sorry for the inconvenience. *
Wedding Chapter PacKage

Ceremony & Banquet (2 sessions, same-day)
2 Photographers.
Cover 2 sessions – Wedding Ceremony & Wedding Banquet(luncheon or dinner).
No limits on the number of photos taken.
10 hours of coverage.
(*cut-off time for wedding dinner 10:30pm*)
A USB thumb-drive of all enhanced hi-res photos.
Complimentary a timeless quality 8 x 12 inch 40 pages Premium Photo Album.
Rate: start from RM3,580
(Requirement may differ for different wedding events, so do contact us for a bespoke quote.)
Suitable for Wedding Theme:
Chinese Traditional / Garden Wedding / Church Wedding / Beach Wedding
Upgrade:
*** Same-Day-Edit Slideshow: Add-on RM100 ***
Note: Cut-off time for Ceremony at 2pm. We need at least 5 hours break time to prepare the slideshow before the Wedding Dinner.
*** Additional photo shoot hour: RM300 /per hour ***
*Price is subject to Ipoh area only.*
Slots are limited, please contact us to secure your date.
Album & Prints
Preserve the moments and these will be your family history.
Premium Photo Album
Have it as a keepsake for all the memories. Album printed on the finest paper and covered in linen or leather.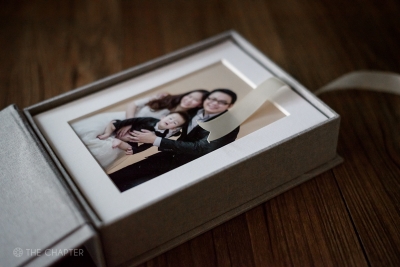 Timeless Photo Box
A gifts for the your loved ones. Ideals for baby, family or solo glamour portraits and wedding photos. Photo printed on finest photo paper and mounted in artisan matboards; available to be ordered in a set.
Wall Art Print
Decorate your home walls by displaying your unique portraits with all of our bespoke frames.
8×12 / 12×15 inch or larger sizes & canvas are available.